08 juillet 2012
Une photo, Une histoire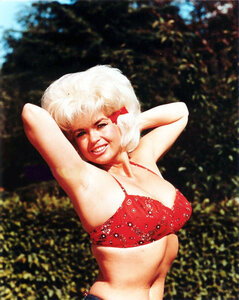 Photographe: Bruno Bernard
Modèle: Jayne Mansfield
Date: vers 1962
Lieu: Hollywood

Jayne Mansfield ressemble à une Baby-Doll pour ce shooting: sans doute par sa coiffure choucroute (les cheveux ont été crêpés) et le petit noeud dans les cheveux; ainsi que les poses toujours très érotiques que prend Jayne. Elle est d'ailleurs photographiée par le spécialiste des pin-ups, Bruno Bernard, aussi surnommé Bernard of Hollywood, qui était le photographe des stars hollywoodiennes des années 1950s. Lors de cette séance, prise probablement vers 1962/63, Jayne avait plus de 27 ans, était déjà mère d'une fille (Jane Marie, née en 1950) et mariée à Mickey Hargitay, monsieur Muscle de l'époque. On remarque qu'elle avait pris un peu de poids. Pour la première séance, Jayne pose dans un lit et devant la piscine (est-ce dans sa célèbre maison luxueuse du Pink Palace ?); quand à l'autre séance, plus formelle, elle pose dans un studio au fond rouge.
> Portraits Publicitaires pour le film danois
"Heimweh nach St Pauli"
C'est le groupe rock du moment: Skip The Use est, comme son nom ne l'indique pas, un groupe de rock français, originaire de Lille. Après avoir écumé les scènes du nord de la France pendant une petite décennie, c'est en janvier 2012, qu'ils se font distinguer en remportant une Victoire de la musique pour la catégorie "Groupe ou artiste révélation scène de l'année"; et interprète pour la première fois leur single Ghost sur le plateau de l'émission "Taratata". La chanson, enregistré avec une chorale d'enfants, est extraite de leur 3ème album studio Can be Late, sorti en 2012.
Le titre Ghost, n'est pas sans rappeller la chanson Kids with Guns, du groupe Gorillaz, sorti en 2006, enregistré aussi avec une chorale d'enfants.

Time is running out
Ghost keeping me alive
I get what it means
You have to survive

Eight o' clock in the morning
To hard to give, to hard to live
I can't stop dreaming
Do you know what I'm in
you make up your angry eyes
You stay hidden but I see you smile
I wanna stay inside your arms
I want to feel fine
(You have to survive)

Twenty minutes and I'm ready
It's not raining today
I'm late and I must hurry
Welcome to my way
(You have to survive)
I don't wanna wet us i'm sorry
It's not raining today
Kill the light
I can see

Time is running out
Ghost keeping me alive
I get what it means
You have to survive
(x2)

You know i'm on the road
We are playing tonight
Ever since this morning
Your kiss is on my skin
What's again tonight?
Will you talk to me?
You know I need you
To make it real

Time is running out
Ghost keeping me alive
I get what it means
You have to survive
(x2)
(You have to survive)

You gonna die, die, die
I get, I get what they're saying to me
I gotta smile, smile, smile
Forget, forget, forget it i wanna be
Come inside my world
Live the gun outside
I've got the words
Let them blow your mind

It's a lie lie lie
I get I get what the story will be
You gotta try try try
Escape, escape, escape your misery
Stop the motion
I got the solution
Wake up, focus, (thrive?) and get free

Time is running out
Ghost keeping me alive
I get what it means
You have to survive
(X2)