09 juin 2013
Une photo, Une histoire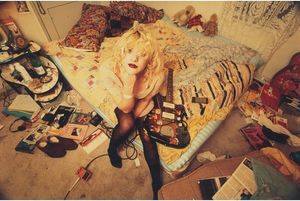 Photographe: Alan Levenson
Modèle: Courtney Love
Date: 1992
Lieu: chez Kurt et Courtney
En 1992, Courtney Love a 28 ans et elle vient de se marier avec Kurt Cobain (le 24 février), le leader du groupe de grunge Nirvana; ensemble, ils auront une fille, Frances Bean Cobain, née le 18 août 1992. Elle fait partie du groupe Hole, qui a sorti un album, Pretty on the inside, l'année précédente (en 1991).
Courtney est ici photographiée chez elle, dans l'appartement qu'elle partage avec Kurt, par le photographe Alan Levenson, qui se souvient: "The apartment was a mess. She was pregnant. Kurt was in the other room calling doctors from the yellow pages."
("L'appartement était en désordre. Elle était enceinte. Kurt était dans l'autre pièce, en train d'appeler les médecins en regardant dans les pages jaunes").

---
> sur le web:
Site officiel du photographe Alan Levenson
Site de fan Courtney-Love.org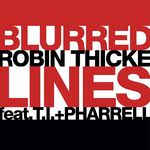 C'est LA chanson de ce printemps 2013: "Blurred Lines", interprétée par Robin Thicke en featuring avec Pharrell et T.I. , est un titre sorti dans les bacs en mars 2013 et extrait du 6ème album de Robin Thicke, portant le même titre, "Blurred Lines". Rencontrant un franc succès, le single s'est positionné numéro 1 dans les charts de différents pays: Australie, Canada, Nouvelle-Zélande et Pays-Bas; et figure en deuxième position en France, Belgique, Italie, Danemark, Suisse et au classement Hip Hop / RNB des USA. C'est une chanson très sexy, fortement inspirée de la chanson de Marvin Gaye, "Go to give it up" en 1977, et dont le clip a fait le buzz dernièrement: réalisé le 20 mars 2013 et mis en ligne sur le site internet Vevo, il fut visionné plus de 1 million de fois: on y découvre des jeunes femmes seins nues (dont la mannequin Emily Ratajkowski). Robin Thicke expliquera même qu'il tourna le clip, après avoir reçu le consentement de sa femme, l'actrice Paula Patton. Le clip vidéo est censuré pour la télévision, qui en diffuse alors une autre version, plus soft, sur les antennes: cette fois-ci, les jeunes femmes portent un corsage !
Artiste: Robin Thicke feat. Pharrell & T.I.
Titre: Blurred Lines
Année: 2013
Extrait de l'album: Blurred Lines
> clip version non censurée

> clip version censurée

Everybody get up, WOO!
Hey, hey, hey (x 3)

[Verse 1: Robin Thicke]
If you can't hear, what I'm tryna say
If you can't read, from the same page
Maybe I'm going deaf
Maybe I'm going blind
Maybe I'm out of my mind

[Pre Hook: Robin Thicke]
Ok, now he was close
Tried to domesticate you
But you're an animal
Baby, it's in your nature
Just let me liberate you
You don't need no papers
That man is not your maker
And that's why I'm gon' take a

[Hook: Robin Thicke]
Good girl
I know you want it
I know you want it
I know you want it
You're a good girl
Can't let it get past me
You're far from plastic
Talk about getting blasted
I hate these blurred lines
I know you want it
I know you want it
I know you want it
But you're a good girl
The way you grab me
Must wanna get nasty
Go ahead, get at me

[Verse 2: Robin Thicke]
What do they make dreams for
When you got them jeans on
What do we need steam for
You the hottest bitch in this place
I feel so lucky
You wanna hug me
What rhymes with hug me?
Hey!

[Pre Hook: Robin Thicke]
Ok, now he was close
Tried to domesticate you
But you're an animal
Baby, it's in your nature
Just let me liberate you
You don't need no papers
That man is not your maker
And that's why I'm gon' take a

[Hook: Robin Thicke]

[Verse 3: T.I.]
(Hustle Gang Homie)
One thing I ask of you
Lemme be the one you back that ass up to
From Malibu to Paris boo
Had a bitch, but she ain't bad as you
So, hit me up when you pass through
I'll give you something big enough to tear your ass in two
Swag on 'em even when you dress casual
I mean, it's almost unbearable
In a hundred years not dare would I
Pull a Pharcyde bitch, you're passin' me by
Nothin' like your last guy, he too square for you
He don't smack that ass and pull your hair for you
So I'm just watchin' and waitin'
For you to salute the truly pimpin'
Not many women can refuse this pimpin'
I'm a nice guy, but don't get confused, you git'n it!

[Breakdown: Robin Thicke]
Shake your rump
Get down
Get up-a
Do it like it hurt, like it hurt
What you don't like work?
Hey!

[Verse 4: Robin Thicke]
Baby, can you breathe?
I got this from Jamaica
It always works for me
Dakota to Decatur
No more pretending
Cause now you're winning
Here's our beginning
I always wanted a

[Hook: Robin Thicke]

[Bridge: Pharrell & Robin Thicke]
Everybody get up
Everybody get up
Everybody get up
Hey, Hey, Hey
Hey, Hey, Hey
Hey, Hey, Hey

[Outro: Pharrell & Robin Thicke]