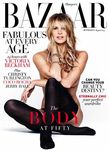 Shirley Manson est en interview dans la version australienne du magazine Harper's Bazaar , de août 2013. Shirley pose sous l'objectif du photographe Jez Smith.
Photographed by Jez Smith,
Styled by Thelma McQuillan,
Hair by Renya Xydis at The Artist Group,
Make-up by Jody Oliver at DLM,
Manicure by Gemma Barhan for Miss Frou Frou.

Grab a copy of the August issue of BAZAAR this month and you'll find, wedged between some pretty inspiring women like Elle Macpherson, Coco Rocha and Christy Turlington, an icon and role model of a different breed, the fantastically provocative, and smoking hot Garbage front woman, Shirley Manson. We could all take a leaf out of Manson's book – she's incredibly genuine, unapologetic, intelligent, and she plays the game her way, completely unafraid to take a hit.
In February, a few hours before Garbage's Sydney show, I sat down with her to talk about the band's hiatus, female representation in music and why she'd hate to be a new artist right now.
We've really loved having you back, and it's been too long between Australian tours. Can you tell me about the 8 year Garbage break?
"Funnily enough, we called it quits in Perth. Australia was the last place we wanted to play and we decided that we weren't enjoying ourselves and thought, being in such a privileged position, there must be something wrong if we don't feel good – it was a disservice not only to our profession and our fellow musicians but also to ourselves. We didn't really know what was wrong, we just felt depressed. [Laughs] We were a group in depression! We were fatigued from working non-stop for a decade, we hadn't spent time with our families and we just had no life."

How did it feel for you switching to a normal life?
"The first year, I cannot lie, was really scary. I realised I hadn't been anywhere by myself. I went to the supermarket the first month that I was home, by myself, and I started to shake because I realised for 15 years I always had somebody around. Always. I didn't even know what the price of a pint of milk was! I was just lost. And so when that happens, you're scared and fragile and I don't think that's a very good place to be as a human being. But I pushed through all of that and became acclimatised to regular life again and it was fantastic."

What was the motivation behind reuniting Garbage?
"It was a lot of things. I think we had taken so much time off, so many things had happened to us in our personal lives. I'd gotten married, I moved to LA, I lost my mother, which was a huge deal for me – she was so sick for two years, I didn't even want to make music, and then after she died, I didn't feel there was any point and I didn't have any music in me. Then, like all things, time heals you and you sort of start to think, 'My mum, of everybody I've ever known in my whole life, would be so devastated to think that I was no longer making music.' I think that was partly a spur. Then I started to want to be creative, I had ideas and I didn't have anywhere to put that creative energy. I tried writing music with other people – to me it was a fantastic venture – but my record label didn't think it was commercial enough so they didn't want to release it, which drove me insane! Eventually I just waited until my deal came to a close with them and then I was free. I was singing at the memorial for a friend of ours' little boy and it was a very emotional occasion and I bumped into [drummer] Butch there and he was crying and said, 'It was so amazing to hear you sing.' I was desperate to make music; he was too, so I think that was how we moved on and decided to call the boys."

You're an icon still, and you've endured whilst being completely true to yourself, what do you put that down to?
"I have endured, I realised, it's funny because when we finally finished our new record, my manager said to me, 'You realise that you're probably one of a handful of women who have ever done this? Who have, in their 40s put out a record that popular media are interested in.' I was kind of laughing like, I hadn't even given it a thought. As we started to slowly immerse ourselves in the music scene again I was suddenly wondering 'Yeah, where are all the female fronted bands that were playing in the 90s with us?' There are very few left. I feel very grateful for that, I put a lot of it down to our fan base who have been remarkably loyal in a time where peoples' attention spans are 2 seconds long; it's a miracle to me that anyone gave a shit about us bringing out another record. [laughs]
There are very few women, with my kind of experience, who are interested in making a more defiant stance, because I am defiant – I do know that about myself – and I am truculent, I'm non-compromising in a funny way and I think that's kind of an outmoded idea for women right now, it seems to me that women are very prevalent in the media but there is very little coming out intellectually or otherwise. I find that a wee bit weird."

They're being hushed.
"They're being hushed! It's kind of interesting, I do feel for women especially, that's what was so amazing about the 1990s – there was me and then a billion other girls who were speaking out and pushing back against the mainstream idea of how women should present themselves in the media."

What have your career and experiences taught you and how have they translated to what you're doing now?
"I think I've had the luxury of a lengthy career, and that informs every decision you make and it's taught me a lot about myself, about doing business, about engineering the life you want for yourself, and what I'm willing and not willing to tolerate – which sounds simple but is hard to learn who you are and what you want and what environment you thrive in. It's tough – when you have a lot of pressure on you and your career, it's very difficult to make smart decisions. What I have now realised is that I made a lot of really smart decisions, as did my band."

And that's something so many young artists struggle with now.
"Oh I would hate to be an artist right now; I think it's very difficult- there's no patience for building an artist. I look at what's happening with someone like Azealia Banks, who I really admire and I think is an incredible talent, 212 was my favourite song bar none of last year, but there's so much pressure on her now. I'm sure she feels it, maybe she doesn't, maybe she is free of that concern, but I think that's a pretty tough spot to be in, where you put out your first single and before you know it, everybody in the world literally knows who you are.
I think that can be a very stifling place for a young artists to try and thrive. I see the pressure on people now to be successful and huge and big right out of the starting gate, it's insane and unnecessary.
They say that you don't know how to do anything very well until you've done at least 10,000 hours -nobody gets that chance anymore. Artists are expected to have hit after hit, after hit, after hit. And if you don't have a hit, the second you fail, you're out the door because there are a billion people waiting to fill your shoes. The record companies have no patience with a failing artist so they just throw them out with the garbage and they get a new blood. I think what that leads to is 10-a-penny artists who all sound the same and nobody is taking chances, nobody is taking creative risks."

There are a few that are doing it their own way, not someone else's, which is something I know you've experienced… Who is getting your attention?
"Well they just want little auto-matrons, believe me, they just want you to sound the same and do the same as everybody else. 'That's worked for The Pussycat Dolls! That'll work for Shirley Ann Manson!' Uh no actually that formula will not work. But they don't understand that…anyway, that's a whole other conversation. [laughs] Who do I love? I like the girls who are an argument with the mainstream – I love Karen O from the Yeah Yeah Yeahs, I love Savages out of the UK – so good and exciting and weird and sort of strident and not playing the pretty girl card or the people pleaser card. I would like to see a little bit more of that."

Savages are fantastic. You wrote a track for Sky Ferreira too, didn't you?
"I did! I was doing a shoot and I met a friend of Sky's and he said 'she is really struggling and a little lost and would you reach out to her? Because I think you'd really like her.' And funnily enough, Greg Kurstin, a friend of mine and a writer in LA, had also been working with Sky right at that time and he'd said, 'I think you'd love this kid! She's kind of feisty and she's got good music taste and she doesn't know really how to deal with all the pressures of a record label's expectations.' So I emailed her and we hit it off. You can't sit in a room with Sky and not think there's something fucking incredible about her. I know she's beautiful, and people write her off, but it's nothing to do with beauty at all. I've seen a billion beautiful girls in my lifetime and I haven't wanted to help them all out. I just see Sky and I think she's got a spirit in her and she wants to be an artist and she's curious and she's willing to take risks and I love that in her."

Do you have a natural mentor instinct?
"I do, because of what people did for me, I understand what a mentorship means. Tina Weymouth and Debbie Harry and Chrissie Hynde really played a big role in moments when I felt like I couldn't do something, they told me I could. In general, I feel sympathy for any young artist, but I am really drawn to women because I identify with what they are up against- because you're up against a lot. It's not easy – I know that anyone who succeeds in the music industry, particularly if they are female, every single one of them has bled out. Every. Single. One. Even the ones who look like they are sort of puppets – even they have bled out. Even just to be in the game, let alone be great- I identify with that and I have a lot to teach."

What advice would you give young female artists?
"Keep going and listen. If you really want to make this your life, you have to be willing to get smacked in the mouth and lie on the ground all bloodied and have everyone laugh at you and not believe in you and tell you you're kind of worthless, and be prepared to stand back up and be defiant enough to say, 'No I think you're wrong. I think you are all are wrong!' And that's the only thing you have to do, keep trying. Now that doesn't guarantee you success, but let me assure you, you won't have a career if you're not willing to do that.
Women in particular, I think, get defeated really easily. I've seen it with some of my friends, I've seen it sometimes with my family – they get a slap in the face and they go, "Well, that's it! I tried to do this and it didn't work out." Okay, well then, you're going to have to try again, aren't you? I think people get scared to take that risk because, "Oh it hurts so bad, the first time I failed, I don't think I can stand it again." Well my news to you is yeah, you can stand it. All it is, is just a little loss of your dignity or your self-respect or whatever, you can get over it, if you really want it that bad."

You've always talked about your own inner demons and self-doubt, is that something you still battle or have you overcome it now?
"No, I still have it. I have a woman in my life, my trainer, and she's been incredibly inspiring to me. She said something once, a few years ago, that really resonated with me: 'All this self-doubt that you have Shirley, everybody has really, deep down, if they want to tune into it. Your problem is, you're listening to the negative. They're just your feelings, they're stupid and they have no base in reality, they are just things you think you feel. Switch that off and just start tuning in.' When I put it into practice, the healthier I feel. Yeah, I get down, but then I think, 'I've got to stop this,' do something that takes my mind off it and then I forget I'm depressed or full of self-doubt."

You wouldn't know because you're so fierce.
"I'm too superficial!" [Laughs]

Well, speaking of, can you tell me about your style and how it's kind of evolved over the years?
"[Laughs] I've always been surprised that I've had any attention from the fashion world whatsoever! I do know that I have a big personality and that's what designers like. They're like, 'I'm going to dress her because she's not going to walk into a room and be quiet, she's has something to say.' I don't let the clothes wear me – I tend to wear the clothes… One day I'll be like, "Okay today I'm just in the mood to look really demure," and I'll wear a really demure dress with glasses and I'll look like a librarian. And then the next day I'm like, "Fuck this! I'm going to wear my thigh-length leather boots!" and do the complete opposite. So I don't have any real, real aesthetic but I know what I like and I guess I do want to look different to everyone else, particularly when I step on stage."

I like that when we were prepping our shoot you had an opinion about what you would and would not wear – particularly no fur and no "rock chick" styling. So you still get pigeon holed in to that? Isn't that boring?
"Yeah I do. It is boring, it's so dull! It's so uninspiring, because I always want people to dress me up like an actress from a 1960s Italian movie or like Catherine Deneuve in Belle Du Jour, I always want that! I don't want to wear what I'd normally wear to the studio every day. The [BAZAAR] shoot was fantastic, so much fun. I mean, they aren't clothes that I would probably ever wear, but Catherine Deneuve would, so I loved it! It's like playing with dolls when you're little and I love that. I guess I see fashion as creating; it's about escapism and fantasy. And I love creating and I love telling a story."

> source web:
site du magazine harpersbazaar.com.au