11 mai 2012
Le clip du premier single du dernier album de Garbage, intitulé Not your Kind of People (sortie prévue le 14 mai 2012), est enfin dévoilé ! La chanson Blood for Poppies fait figure de premier single sortie mondialement le 15 mars (tandis que l'Angleterre cherche à se démarquer en sortant le titre très rock Battle in Me comme premier single, allez comprendre...) et comporte bien la signature musicale reconnaissable du groupe: guitares électriques qui gagnent en intensité, distorsion du son, le tout mélé à la voix envoûtante de Shirley Manson. Garbage parvient à échafauder cette sensation de "rêve abstrait" que Shirley Manson évoquait en décrivant cette chanson librement inspirée, selon son propre aveu, de la lecture d'un sujet du Los Angeles Times sur le trafic d'opium et de la vision du documentaire sur la guerre en Afghanistan Restrepo, primé à Sundance en 2010 et nominé pour l'Oscar en 2011; "C'est une chanson sur la désorientation, le vertige et la lutte de l'homme pour ne pas perdre la raison devant la folie", résume Shirley.
Le single et sa Face-B:
1. Blood for Poppies
2. Battle in Me
Quand au clip vidéo... Garbage renoue avec ses débuts: atmosphère lugubre et sensuelle à la fois, le tout teinté de surréalisme (qui n'est pas sans rappeler le clip Push it extrait de leur 2ème album). Réalisé en février 2012 par le photographe de mode Matt Irwin, qui propose une image en noir et blanc, sale, abîmée, elliptique et qui se veut inspirée des travaux de Magritte, Buñuel, Maya Deren; bref, trois icônes du surréalisme, mais aussi de la photographe Francesca Woodman, spécialiste des portraits de femme en noir et blanc, qui se suicida en 1981 à l'âge de 22 ans. Le gang Garbage s'est apparemment beaucoup éclaté à tourner à Los Angeles ce "splendide rêve surréaliste", dixit Shirley.
Artiste: Garbage
Titre: Blood for Poppies
Réalisateur Video: Matt Irwin
Année: 2012
Extrait de l'album: Not your kind of people
To lift the sun,
I've been sitting here all night long
Rolling rock, over Buddah with the longhorn
Got a hole, rip a pocket off my uniform
With the black watch boys
Get your heads down
Oooh
Duty calls, but it's way too late
I'm too far gone
Waiting for God, oh hell
With my pants down
Crack the stash
Then be quiet in the midday sun
I miss my dog, and I miss my freedom
Ooh ooh oohh

I don't know why they are calling on the radio
They know i'm here just out of sight
I don't know why they are calling on the radio
It's by my side, and I know i'm right
I don't know why they are calling on the radio
They know i'm here just out of sight
I don't know why they are calling on the radio
It's by my side, and I know i'm right

I hate the things I think about you
When I'm all alone
I know you're tough
But I've been gone
For so long
Play the memories of you
Inside my head
So all these pictures of us
Burn and radiate
Watch the clouds, and I'm falling
Falling through the cracks
Head beats
And my heart is pounding fast
Off the ground
Into the starry dark, into your arms
I'm falling
Ooh ooh oohh

I don't know why they are calling on the radio
They know i'm here just out of sight
I don't know why they are calling on the radio
It's by my side, and I know i'm right
I don't know why they are calling on the radio
They know i'm here just out of sight
I don't know why they are calling on the radio
It's by my side, and I know i'm right

I pray my body's right
I've got to stay alive
I've gotta take a chance and keep on moving
Keep on moving

I don't know why they are calling on the radio
They know i'm here just out of sight
I don't know why they are calling on the radio
It's by my side, and I know i'm right
I don't know why they are calling on the radio
They know i'm here just out of sight
I don't know why they are calling on the radio
It's by my side, and I know i'm right

I don't know why they are calling on the radio
They know i'm here just out of sight
I don't know why they are calling on the radio
It's by my side, and I know i'm right
I don't know why they are calling on the radio
They know i'm here just out of sight
I don't know why they are calling on the radio
It's by my side, and I know i'm right

> source
article Garbage Blood for Poppies sur purepeople.com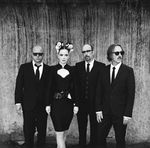 Il faut toujours que ce genre d'événement se produise à Paris !! Ceux qui se trouvent dans la capitale sont de véritables petits chanceux, car ils pourront rencontrer le groupe Garbage lors d'une séance de dédicace le mercredi 16 mai 2012 à partir de 13h à l'Espace Rencontres de la Fnac Forum des Halles (Niveau 2). Cependant, le temps sera plutôt (très) limité: la séance ne dure que 40 minutes (de 13h à 13h40).
> source
info sur fnac.com
10 mai 2012
Le magazine Paris Match du 9 mai 2012, n°3286, consacre un article sur Garbage avec une interview de Shirley Manson.
---
Garbage sort du silence
Article dispo en ligne sur le site de parismatch.com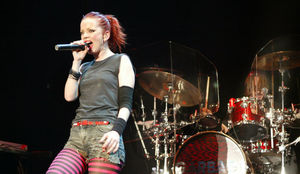 Garbage en concert à Seattle en 2005. | Photo REUTERS/Anthony Bolante
Paris Match. Qu'avez-vous fait depuis sept ans ?
Shirley Manson. Il nous a fallu tout ce temps pour nous retrouver. Nous avons eu besoin de cette pause, pour vivre en dehors de la musique et du groupe. Le rôle d'un artiste est d'être un miroir de la vie mais, quand on enchaîne indéfiniment concerts et séances d'enregistrement, on perd contact avec le monde qu'on est censé refléter. C'est le problème que connaissent les artistes qui se laissent happer par la machine. Nous ne faisions plus notre boulot.
Tout le monde attendait alors un album solo, que vous avez d'ailleurs enregistré. Pourquoi n'a-t-il jamais été commercialisé ?
Avec Garbage, je souffrais de voir notre parcours totalement formaté par la maison de disques. Je viens du monde indépendant où on fait ce qu'on veut, où la création est spontanée. Donc, quand je me suis retrouvée seule, j'ai voulu enregistrer un album très personnel qui ne visait pas les radios. Bien évidemment, je n'ai pas trouvé de producteur qui veuille me suivre. Pourtant, ils avaient calculé qu'avec ma notoriété je pourrais vendre 150 000 disques. Cela me convenait parfaitement mais ne les intéressait pas. Mes démos ont été jugées trop "noires" par mon label. J'avais pris cela pour un compliment, ce n'en était pas du tout un !
Ne craignez-vous pas qu'après un arrêt si long votre public soit passé à autre chose ?
Je ne suis pas inquiète. Nous avons fait un bon album, et le monde ne va pas s'écrouler si les gens ne l'écoutent pas. Nous avons bien compris cela. La connexion avec le public est brève aujourd'hui. Tout va si vite. Et il y a une demande constante de nouveauté et de jeunesse qui fait un peu peur.
"J'ai passé beaucoup d'auditions, des expériences horribles"
Le monde de la musique est-il plus dur avec les femmes ?
Il l'est particulièrement avec les femmes ! Non seulement vous devez être à la hauteur artistiquement, mais vous devez aussi avoir l'air éternellement jeune. C'est un jeu où nous ne pouvons que perdre.
Vieillir vous inquiète-t-il ?
Non. Que puis-je faire, de toute façon ? J'ai toujours admiré les femmes qui poursuivaient une carrière sans compromission, quel que soit leur âge. Patti Smith est un exemple pour moi : elle a tout fait selon ses propres règles. Grâce à elle, je ne me sens pas obligée de prétendre avoir toujours 20 ans et de ne jamais péter les plombs.
On vous a vue dans une série télé, "The Sarah Connors Chronicles", dérivée de "Terminator". Ce fut une bonne expérience ?
J'ai adoré ! C'était un rêve de petite fille qui se concrétisait. La série a été arrêtée, mais j'ai très envie de rejouer. J'ai suivi des cours de théâtre. C'est très stimulant car la plupart des élèves sont bien plus jeunes que moi.
Votre notoriété vous aide-t-elle à décrocher des rôles ?
Pas du tout. J'ai passé beaucoup d'auditions, des expériences horribles. J'ai tourné un film avec Rob Lowe, et mes scènes ont été coupées. Ce sont de vraies leçons d'humilité !
04 mai 2012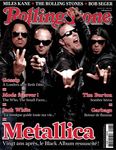 L'édition française du magazine Rolling Stone n°43, paru le 20 avril 2012, consacre un article de 6 pages au grand retour du groupe Garbage, avec une longue interview de Shirley Manson. En fin de magazine, on retrouve la critique du nouvel album Not Your Kind of People.
18 avril 2012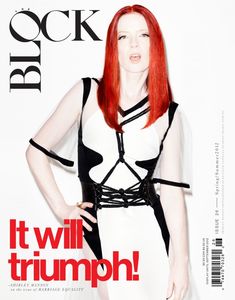 Shirley Manson est en cover du magazine Block Mag , issue 26, de printemps / été 2012, avec une séance photos où Shirley joue les mannequins.
Photographe: Kenneth Capello
> source web:
scans du facebook Queremos a Garbage en Argentina
L'édition russe du magazine Interview, d' avril 2012, contient une interview de Shirley Manson, dont l'interviewer est Debbie Harry (l'icone du groupe culte Blondie). Aucune photographie de cet entretien n'est publiée, mais des photos du groupe Garbage par le photographe Autumn De Wilde.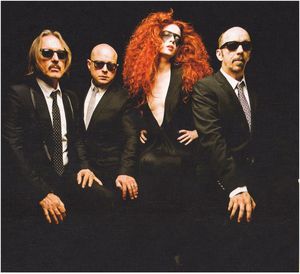 photographe: Autumn De Wilde
stylislme: Marjan Malakpour
coiffure: Clyde Haygood
maquillage: Donald Simrock
SHIRLEY MANSON
by DEBBIE HARRY
The band Garbage is returning after a seven- year lull. In contrast to other heroes of the past that are chasing big dollars, this reunion is in earnest and for the long-haul.

For the 1990s generation, Garbage—the brain¬child of singer Shirley Manson and Butch Vig, pro-ducer of Nirvana's "Nevermind" album—was an em¬blematic, if not lethal hallmark. Girls tried their first taste of love to the songs "Stupid Girl" and "Melt" and opened a new, adult world for themselves, as so precisely defined in the soundtrack to the James Bond movie "The World is Not Enough". On the eve of the release of the group's new album, the red¬headed rogue Shirley Manson—the face, voice and style of Garbage—talked with Debbie Harry, the founder of legendary group Blondie, which was an inspiration for Shirley. It turns out that much unites the two singers.

DEBBIE: Gosh, we haven't seen each other in six years!
SHIRLEY: Yes, the last time we were in the same room was at the Rock and Roll Hall of Fame, when you were inducted—in 2006, I think.
DEBBIE: And you gave me the best speech in history. So sweet!
SHIRLEY: I think that if anyone on this planet deserves to be immortalized, it's you. You know, I still have a portrait of you above my bed. I wake up and go to sleep with you.
DEBBIE: Outstanding. Where have you been hiding all this time?
SHIRLEY: Well, I decided to crawl from under my little shell and after seven years take another swing at this thing.
DEBBIE: Why did you want to come back?
SHIRLEY: A feeling of not being done, like I have something left in the tank.
DEBBIE: A lot of people are already shaking with anticipation. What direction do you think your music is taking?
SHIRLEY: I guess our current music resonates with the energy of early Garbage. Some people who have heard the new album said that it reminds them of our first record. We took so much time off that over these years we were able to regenerate. There are moments when you realize that there's nothing else to be done. But the record label wants you to make a new album even if you're not ready. We balked at that pressure, came off the road, and decided to simply live.
DEBBIE: Yeah, but then that crative itch appears... I knew that you were working on a solo project and then I lost contact with you. But I al¬ways knew you wanted to continue to do music. You have something to say, and people want to hear you.
SHIRLEY: I was surprised to take so much time. I thought my seat at the rock-n-roll table would al-ready be filled. It's not a positive place to be but that's how I felt. But then I was surprised to find that no one had replaced me. When I was growing up, there were so many rebellious women singers like yourself, Chrissie Hynde (The Pretenders), Pat¬ti Smith...I grew up with that music. In the last de¬cade very few women have verbally rioted against pop music. I love pop music, don't get me wrong, but balance is important.
DEBBIE: I agree, it's not an easy time for rock. The market is oriented toward pop, lots of girls per-forming now more resemble showgirls than artists.
SHIRLEY: Yes, it's like watching a Broadway show. Like I said, I grew up with punk.
DEBBIE: OK, girl, are you ready to be punking it out?
SHIRLEY: Well, I am not a pony and I'm not a showgirl. I will only do what I know how to do.
DEBBIE: You were always rebellious, but I like to describe it as inquisitive or strong-minded.
SHIRLEY: I am ready to be disagreeable, but that's the role of any artist. The showgirl performers today, they work hard, smile, dance, sing, in some ways they are unstoppable. But this is small-mind- ed—it leaves no room for fear or melancholy.
DEBBIE: Then I want to hear some heavy stuff from you!
SHIRLEY: At least the new Garbage record is very guitar-driven. It's a rock record, there's no mis-taking that.
DEBBIE: During childhood, did you think you would play in a band?
SHIRLEY: No way! I was an ordinary girl who sang in a choir, went to ballet class, and then acci-dentally drifted into this alternative universe.
DEBBIE: Before Garbage you sang in the band Goodbye Mr. Mackenzie, right?
SHIRLEY: Do you remember, we toured with you in Europe! Meeting you was like touching a godly rock star. I remember we were stuck in a lift together in Liverpool, before our first concert.
DEBBIE: Gosh, I remember that too!
SHIRLEY: The elevator doors opened, you walked in, and I thought I was going to fall on the floor. I was so freaked out! You greeted me, and I couldn't utter anything. But from that moment you began to support me.
DEBBIE: All my life I've been meeting people in elevators. Once I met Jimi Hendrix in an elevator, and believe me, I was the speechless one.
SHIRLEY: In Goodbye Mr. Mackenzie I played keyboards and sang back-up vocals. And Gary Kur- furst (Blondie's manager.—Interview) came to me and asked: "Have you ever thought about fronting a band?" I was like: "No!" But it planted the seed in my head.
DEBBIE: He always had a great ear for rock. Gary could listen, he had impeccable taste, and he spoke very highly of you. He always said that you're one of the most talented singers on the planet.
SHIRLEY: He also advised me to learn from you, to try to be like Blondie. He always believed in us.
DEBBIE: We all struggle with low self-esteem, so support from others is important. Are you strong¬ly affected by criticism now?
SHIRLEY: As I've gotten older, I realized that it was a dreadful waste of time. It's very easy to feel like you're not worthy. Today I can say that I'm good enough. And this really motivates me.
DEBBIE: Oh, that's so great. Sometimes you need to take a step back and have perspective.
SHIRLEY: It's weird, when we came off the road seven years ago, I decided that Garbage was done. Time passes and you begin to understand who you are and what you need. I read Patti Smith's book "Just Kids" and that triggered some¬thing in me. Patti is really all about not giving up. About that true connection to art. She fired me up, so now I am ready to say the hell with it and start again. And I'm not afraid of anything. Our new album is called "Not Your Kind of People", and it is about our entire careers. We were outsiders. Insiders, hipsters never accepted us. Kind of like Blondie, I think...
DEBBIE: Perfect name! "Not Your Kind of People" sounds like Velvet Underground. Trust me, at the time, no one wanted to be like them.
SHIRLEY: I'm also a little worried about the heavy physicality of touring. I did it since I was 15 and never stopped, always took it for granted. But you really have to be fit to do this. It's a hard job.
DEBBIE: Yes, it's very athletic for sure. Speak¬ing of, you did some modeling? I remember seeing you on billboards.
SHIRLEY: To make money I used to model for art school students. When Garbage became success-ful, Calvin Klein called me and asked me to do an advertising campaign with him. But that's part of the fun, when after hearing your music people begin to want you. Suddenly, everyone dreams of seeing you in their films and TV shows.
DEBBIE: Not everyone could agree to it. You acted in the series "Terminator: The Sarah Connor Chronicles".
SHIRLEY (laughs): That was more at the ab¬surd, rather than brilliant end of my career. I had no idea what I was getting into. I definitely have more respect for actors now. It's extremely hard work. I said yes to that TV show before I knew what I would be experiencing.
DEBBIE: But you were in drama group as a child, right?
SHIRLEY: Do you remember your first acting job? It's terrifying. Was it "Hairspray" for you?
DEBBIE: No, my first serious part was in "Union City", and I had loads of cameos before that. It's nerve-wracking, but if you're sure of yourself, you'll manage.
SHIRLEY: Everyone's creative path is defined by actually not being afraid to look like a fool in a particular moment. That's the key to any good career. Are you willing to take that risk of falling?
DEBBIE: Indeed...Did your religious upbring¬ing help you overcome many of these obstacles?
SHIRLEY: My dad was a Sunday school teacher.
DEBBIE: Gosh, I didn't know that!
SHIRLEY: He was extremely religious, strongly bound to the church. He was ready to have philo-sophical debates with his eleven-year old daughter. He had the courage to disagree, and taught me to be curious. And what is more, to respect others' beliefs. I'm not religious, but it's good to know how to be empathetic.
DEBBIE: This sounds preposterous, I know, but I think that music is a lot like religion.
SHIRLEY: Yes, it's a form of communal prayer. If you fall in love with a musician, a song or an album, then it's forever. You never fall out of love with it.
DEBBIE: That's right. You said that you were touring since you were 15. You had reason to take your recent break—you are not Superman after all. You simply have to recharge your batteries, lie on the beach, right?
SHIRLEY: I think that I had a fear of becoming irrelevant. Then I realized that I needed to get off this train and go home. It's empowering to know that you can get back on that train. I don't care if we sell a billion or ten records.

> source web:
article russe traduit sur thefashionspot.com

21 mars 2012
Quelle superbe photographie en couverture du magazine américain Vaga, issue 3, A Romantic Revolt, paru le 19 mars 2012, avec ce gros plan de Shirley Manson, toujours aussi photogénique et sublime.
Modèle: Shirley Manson
Photographe: Mason Poole
Mode: Marjan Malakpour |Margaret Maldonado Agency|
Assistants de Mode: Sheena Annikki Templeton, Marnika Weiss
Coiffure: Clyde Haygood |Margaret Maldonado|
Maquillage: Donald Simrock |Margaret Maldonado|
Manucure: Jamayka Hamilton
Post-production: Kate Gashvvv
Vêtement: Valerj Pobega
29 février 2012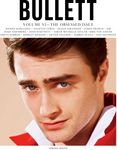 Le magazine Bullett volume 6, du printemps 2012, consacre un article et publie des photographies exclusives de Shirley Manson.
Photography Matt Irwin
Text by Michael Ruffino
SHIRLEY MANSON
Almost two decades and over 12 million albums after Garbage barreled into the heart of alternative rock with their self-titled debut album, the fiery frontwoman returns to the spotlight armed with a new set of killer songs. From a firing range in Los Angeles, between hitting bull's-eyes with a walther p99, she takes aim at everything from tabloids to twitter.
Styling by Gena Tuso
Dresses: Olima Atelier, Thom Browne

Le magazine V n°75, de janvier 2012, consacre un article et publie des photographies exclusives de Shirley Manson.
SHIRLEY, MADLY, DEEPLY
The poster girl for '90s Alternative Rock is ready to reclaim her reign—and the radio—with a new record from her iconic band, Garbage. Don't call it a comeback, Shirley Manson is a classic

Photography Daniele & Iango
Text T. Cole Rachel
With nostalgia for the '90s currently running at an all-time high, it would only make sense that one of that decade's most quintessential bands—Scottish alt-pop darlings Garbage—would be primed for a comeback. Led by flame-haired front woman Shirley Manson, Garbage has sold over 17 million albums since releasing its self-titled debut back in 1995. Aside from possessing an uncanny ability to craft airtight rock songs, much of Garbage's success is due to Manson's undeniable charisma. Equal parts smart and chic, she remains the perfect antidote to the aggressive brainlessness of so much contemporary pop music. With Garbage set to release its first new studio album in six years this spring, there couldn't be a better time for an intelligent, outspoken redhead to reclaim the spotlight. The world needs more Shirley Manson.

T. COLE RACHEL Garbage will be hitting the road again in 2012. What have you missed the most after being away for a few years?

SHIRLEY MANSON I've missed doing the one thing that I know I'm really good at. There's something remarkable about that feeling, when you know you're good at something and you're able to go out and do it. Being on top of something is a great feeling. It's taken me a long time to feel that way. I miss singing, too. I'm a very noisy person—in general—and the past five years or so I've been pretty quiet.

TCR You've been playing in bands since you were a teenager, but when Garbage became a big success you suddenly became the focus of a huge amount of attention. Was that a shocking thing to get used to?

SM It was shocking. I don't quite know how it happened. It took me a long time to actually accept it. It wasn't until we did our second world tour that I really accepted that I was actually the lead singer in a really successful band. I lived in this constant fear that I'd be found out—that people would realize that I didn't know what I was doing. I never felt as good as anybody else. I mean, I was crazy! I was really young and insecure. It took me a long time to settle in to that position. I think that's fair enough. You have to play a million shitty clubs before you really learn how to stand onstage and own your role as the master of ceremonies.
TCR Do you think of yourself as a fashionable person?

SM It's funny, I never thought of myself as particularly fashionable. I always looked at what everybody else was doing and wanted to do the opposite. I always wanted to stand apart from everybody. I think that has defined pretty much every choice I've made. I was a middle child, you know? I had two other sisters, so I was always afraid of never being seen or heard—of having my identity swallowed up by something else—so I never wanted clothes that spoke for me. I wanted to be the one who spoke.

TCR That's interesting. Were you a wild child as a teenager?

SM Yeah, around the age of 17 I was definitely a wild child. I remember that I'd been caught smoking, so I didn't get an allowance—or what we called "pocket money" in Scotland—so I never had money for clothes. Luckily I had a very stylish mom, so I'd go rifling through her closet when I needed something to wear. She had lots of stuff from the '60s, so I was rocking a pretty cool wardrobe, but only by default. I'd find an orange crew neck cashmere sweater in my mom's trunk and wear that with my sister's kilt and a pair of my mom's suede boots and my dad's old funeral coat. I wore that look for nearly a year straight. I remember playing the wicked witch in The Wizard of Oz when I was in school—my hair was straightened and I had black eye makeup on—and I remember that it was the first time I ever looked in the mirror and felt beautiful. The black eye makeup has stayed with me ever since!

TCR So what does "style" mean to you?

SM Style is what you have to say and what you think. Anyone can wear an amazing designer's outfit, but it doesn't make you stylish. As an artist and as a woman, I feel duty-bound to say that. Style is about who you are and how you live your life.

TCR So many young women in bands that I've interviewed over the past couple of years have cited you as an inspiration. Who were the women who inspired you to play music?

SM First of all, to hear you say that, you just have no idea how much it means to me to hear that there are people who have watched the way I've conducted myself and have taken some kind of inspiration from that. The women that played that sort of role for me in my life still remain touchstones for how I want to live, especially at a time when the culture is still so tricky for women to navigate. For example, I grew up madly in love with Chrissie Hynde and Patti Smith and Siouxsie Sioux. Those women spoke to me then and continue to speak to me now. If someone asked me who of all the women in the world I most admire, I would say Patti Smith. What an uncompromising, elegant, graceful career she continues to have. When I look at magazines aimed at women, so much of it is still all about getting Botox and plastic surgery. Women are still just constantly bombarded with those ideas. Then you read Just Kids by Patti Smith and all of a sudden you feel like you're not the only person in the world who feels like what you have to say and what you do in life—and who you are as a person—is way more important than how you look. She's blazed a trail, and women like her are really the compass by which people like me can navigate the world, which, particularly at my age—45 years old—can be perplexing. You know, it doesn't matter how beautiful you are, if you don't have anything interesting to say then you're still boring.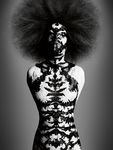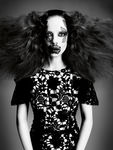 Garbage's fifth studio album is available in Spring 2012

Manicure Bernadette Thompson for the Bernadette Thompson Nail Collection
Photo assistants Jason Geering and Dean Dotos
Stylist assistants Taylor Kim and Eyob Yohannes
Makeup assistant Junko Kioka
Hair assistants Gonn Kinoshita and Mari Watase
Location Canoe Studios, New York
Retouching Didier Luk for +852
Special thanks the Seabrooke family
> source web:
article en ligne sur vmagazine.com

24 février 2012
Ca yest... le nouvel album de Garbage est prêt. « Nous avons terminé... Nous avons terminé... L'enregistrement est finalement achevé ! ». Le groupe commence la promotion de son album en postant sur le net une vidéo dévoilant en partie le shooting photo pour la nouvelle production.
Intitulé "Not Your Kind of People", le disque sera disponible le 14 mai 2012 sur le label Stunvolume Records.
Deux versions de l'album seront proposées :
> une première dotée de onze titres
> une deuxième version « Deluxe » avec des titres bonus portant le tracklisting à un total de seize titres.
> Photos officielles du groupe fin 2011 / début 2012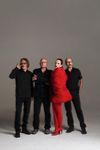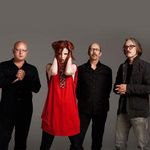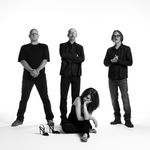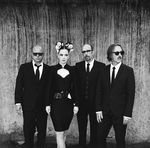 > vidéo: coulisses du shooting du photographe Autumn De Wilde

> captures des coulisses du shooting de Autumn De Wilde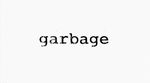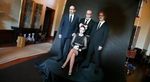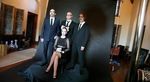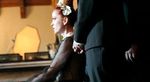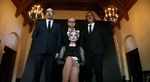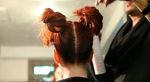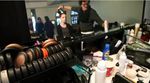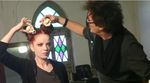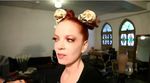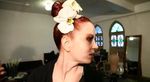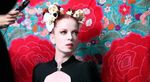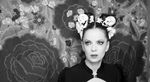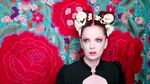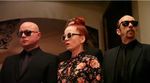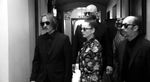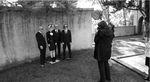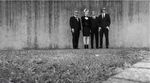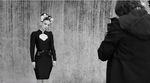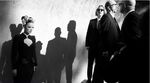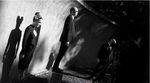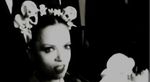 Le groupe annonce donc naturellement une tournée internationale pour promouvoir leur nouvel opus; avec des concerts à Moscou et St. Petersbourg (Russie). Cependant, pour la France, une seule et unique date est annoncée: le 16 mai 2012 à l'Olympia (Paris): « C'est notre grand plaisir que d'annoncer que nous jouerons au légendaire Olympia à Paris le 16 mai. C'est un lieu spécial pour nous et nous espérons que nos fans à Paris l'attendent autant que nous. Merci beaucoup et à bientôt ! » peut-on lire sur le facebook du groupe. Sauf que... la vente des billets est mise en ligne le 3 février et les places sont parties comme des petits pains: en moins d'une heure, le concert de l'Olympia est sold out, complet. Il reste néanmoins les festivals d'été: le groupe est attendu notamment au festival de Werchter le 28 juin 2012 (Belgique).