18 avril 2016
I AM ...
Shirley Manson
Inside the world of Shirley Manson,
singer, songwriter, musician, actress,
and lead singer of Garbage
en ligne sur the-pool.com
publié le 12 avril 2016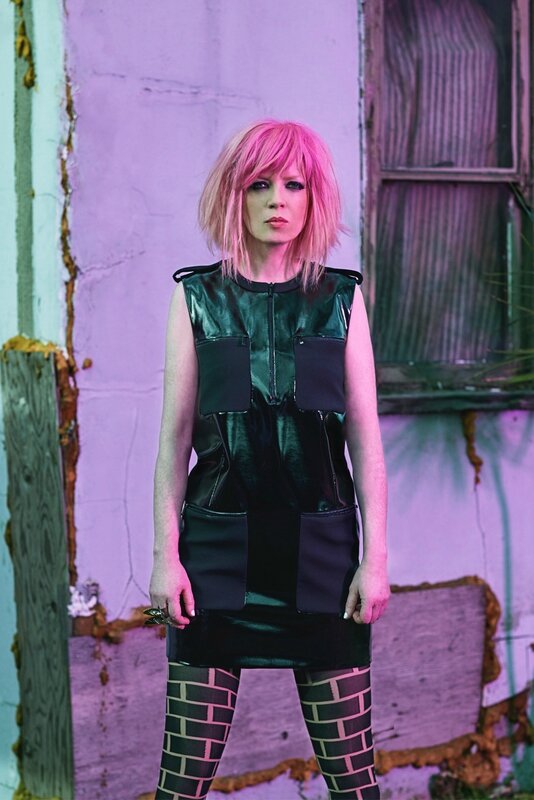 I AM LOVING... being an auntie. I don't have children. I've never had that particular calling or aching in my womb but my sister has two little twerps who I have fallen unabashedly in love with. Sometimes when they are completely unaware, I quietly observe them only to be struck not only by how much love I feel for them but by how much I recognize in them my family genetics. I am perfectly convinced if push came to shove I would willingly, gladly die for either one of them.

I AM GOING... to die and there is nothing I can do about that. Rather than allowing this disquieting fact to bum me out entirely, I have learnt to make such a looming fate work for, instead of against me. As I result I find I get depressed less, waste considerably less time and energy worrying about the future and enjoy my present with a joyful urgency more often than not.

I AM WATCHING... as a large percentage of western media tries to convince me that taking nude selfies of myself is a glorious act of empowerment and self love.

I AM READING... less and less than I used to which frustrates and disappoints me. I find the internet and social media has played havoc with my reading habits. That said I am currently reading "The Beauty Myth" by Naomi Wolf and growing more and more entrenched in my feminist principles by the minute.

I AM EATING... enough but I always want to eat more. I am exceptionally greedy.

I AM WEARING... no socks or shoes. One pair of black leggings, a black sports bra and a black tank. Over the top of which I have flung a deliciously soft "blackwatch" tartan shirt, worn Chola style.

I AM USING... my dog as a foot warmer.

I AM EXCITED... to see what might be around the corner. Wait here for me. I'm just going to go take a sneaky peek and I'll be right back.

I AM TRYING... VERY trying. But my husband claims he loves me and all my challenges entirely so I guess it doesn't really matter. I think easy going is over rated. Nothing significant was ever accomplished by a person being easy going.

Garbage's new album 'Strange Little Birds' is released on June 10th.
17 avril 2016
Une Campagne, Des Stars
Butch Walker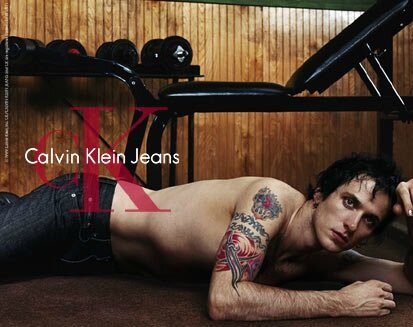 En juin 1999, Calvin Klein propose une campagne alternative pour sa marque de vêtements CK et ses Jeans CK, non pas représentée par une seule personnalité (Kate Moss était leur mannequin emblématique des années 90s) mais par plusieurs figures du monde de la musique. Ils ne choisissent pas des personnalités populaires, mais des musiciens, chanteurs et chanteuses de la scène alternative et dans la diversité musicale:
Butch Walker, artiste américain, chanteur et guitariste (du groupe métal SouthGang dans les années 80s et 90s et du groupe Marvelous 3 de 1997 à 2001);
Jon Spencer, chanteur du groupe rock new-yorkais Jon Spencer Blues Explosion;
Jay Gordon et Ryan Shuck du groupe californien Orgy;
Kim Gordon, la bassiste du groupe de rock myhtique Sonic Youth;
Melissa Auf Der Maur, bassiste canadienne emblématique du groupe de rock Hole (de 1994 à 1999) puis des Smashing Pumkins (1999-2000);
Shirley Manson, chanteuse écossaise du groupe Garbage, qui posait ici sans maquillage et qui a déclaré avoir accepté car Calvin Klein propose des vêtements minimalistes mais elle aurait catégoriquement refusé si elle aurait du poser en sous-vêtements;
Foxy Brown, rappeuse américaine.
08 avril 2016
Shirley Manson on Her Beauty Philosophy: 'I Wear Makeup Not To Attract But To Repel' (Exclusive)

en ligne sur billboard.com
publié le 17 mars 2016
by Shira Karsen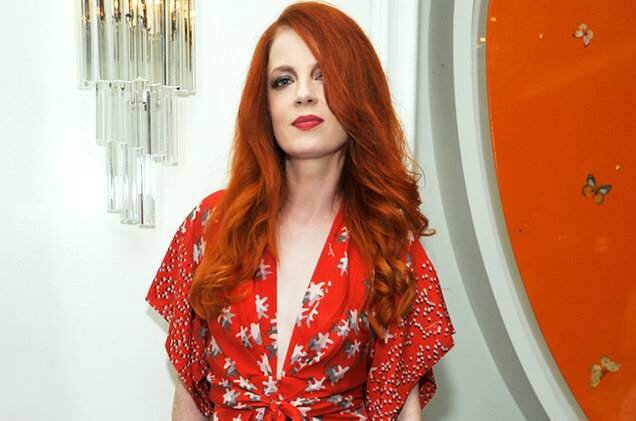 Shirley Manson photographed on Oct. 10, 2013 in Los Angeles.
John Sciulli/WireImage
Shirley Manson comes dressed like a "12-year-old" (her words, not ours) when she stops by Billboard for a playback session of Garbage's sixth studio album, Strange Little Birds, out June 10. Donning candy cotton pink hair (which is mixing it up from her famous electric red coif) and thick slicks of black eyeliner, the 49-year-old singer and feminist-phenom is effortlessly rocking a Peter Jensen crewneck sweatshirt -- the words "Shirley Shirley Shirley" screen-printed across the chest -- a "cheap pleatherette dress, kind of like dungarees," and Robert Clergerie suede boots.

During a time when Kim Kardashian-West contoured beauty and perfectly sculpted buxom bodies reign supreme, Manson's signature look since the early 90s -- a mix of no-fuss feminine mod and aggressively tough 80s punk -- is genuine and refreshing. Billboard spoke to the fashion legend and "makeup-addict" about her enduring riot-girl feminism and innate disgust towards the mainstream ("We've gone back to the Victorian ages where women feel this bizarre need to be judged as fuckmates"), her current obsession with two-tone lips, and why, after all these years, she's still wearing makeup "not to attract but repel."

As the lead singer of Garbage since the early 90s, you've owned your signature look: bright red lips. How'd that look come about ?
There was a phase in my life where we [as teenagers in Scotland] were obsessed with that rockabilly, Americana look, which of course was the Marilyn Monore-inspired red lip. Once I put a red lipstick on my very pale face, it just sort of popped and I became addicted. But now with pink hair I can't wear my red lipstick, otherwise it's like "woohoo!" you can see me coming from miles away.

You've collaborated with -- and been a muse for -- many designers over the years, including Oliver Peoples, ALC and MAC cosmetics. What's been your favorite ?
I've loved them all, but the first campaign I ever did was with Calvin Klein in 1996. At the time, it wasn't so normal for musicians—especially alternative artists—to get so snugly with designers, so I was very excited when I got the call. It was a whole bunch of us alternative artists -- Moby, Melissa Auf der Maur, the guy from Buckcherry -- and we certainly weren't models at all, which was a big deal, too. Steven Klein shot me with no makeup on, which was terrifying. Since I was 11 years old I've been wearing black eyeliner, and I never, ever take my black eyeliner off.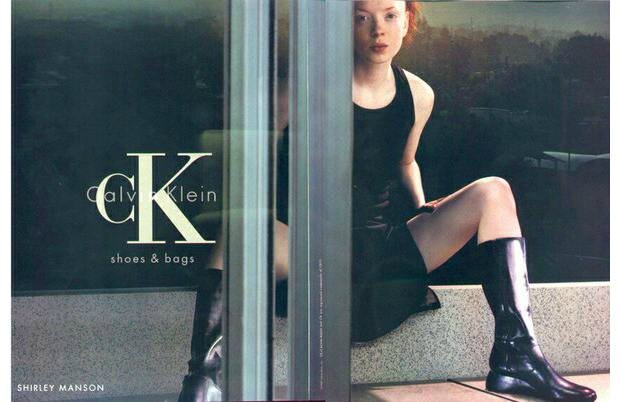 Shirley Manson posing bare-faced for a Calvin Klein ad in 1996. Courtesy Photo
Why black eyeliner ?
I will wear any kind of black eyeliner I can get my hands on. I used to burn coals in a tin until they turned into a liquid and apply using a cocktail stick. Now I wear Laura Mercier "Black Violet", but I've always worn makeup like war paint. I've never believed in just a little slick of see-through lip gloss and a little brushing of natural color mascara. I like my makeup bold, and I wear it not to attract but repel. I wear it as a statement of intent.

What is the statement ?
I feel very at odds with popular culture and what seems to be so valued in our society right now. I don't believe women should be judged for their bodies or their faces. I don't believe women should behave perfectly, I don't think they need to look perfect. I think in some ways we've gone back to the Victorian ages where women feel this bizarre need to be judged as fuckmates. And that disturbs me because women have to be more than that.

How does your style factor into that belief ?
I wear the clothes, the clothes don't wear me. I love simple pieces, and I always feel most comfortable in a little A-line, mod shift dress, which is what I'm known for. If feel like the clothes are wearing me, like at a photo shoot or something, I can't wear them because it fucks with my head. I hate what feels like dress up because I've always wanted to be myself. As a child, I struggled in my warped little mind to have an identity. Since I was a middle child, I assumed I had no identity. And I really struggled with that; I probably still do actually.

Is there a makeup trend you're really into right now ?
I love the punk-inspired makeup trends currently happening, particularly the stuff coming out of the U.K. I'm also obsessed with the two colored, split lip. Like a blue top lip and an orange bottom lip and lots of gloss...We're also seeing a lot of very linear, geometric lines rather than smudgy and soft. It's all very bold -- almost like a drawing on the eyes and it just fucking blows me away.

Favorite color ?
Black.

One product you can't live without ?
L'Oreal Paris Voluminous Volume Building mascara in "Blackest Black."

Tips for getting that perfect red lip ?
You must not bite your lip because that will end in complete disaster with lipstick all over your teeth, which is a gross look. You also have to line your lips first and then put lipstick on. As for colors, I'm very partial to Lady Danger by MAC and Charlotte Tilbury's 1975.

Who is your style and makeup inspiration ?
Siouxsie Sioux. I once showed up to a party late, by myself, and had painted my entire face white with black lips and black eyes and this mental, crimped, brushed out ginger hair. The look was all inspired by her because she was my style guru back in the day. I remember knocking on the door and the boy hosting opened the door and burst out laughing. It was a bold look I will confess, it was a bold look.

What were you thinking when he laughed at you ?
I was thinking I was cool as fuck.
08 novembre 2015
Année: Printemps 2010
(publicité tournée en novembre 2009)
Marque / Produit: Oliver Peoples / lunettes
Pays: USA
Titre: "Les enfants s'ennuient le dimanche"
"The children are bored on Sundays"
Personnalités: Elijah Wood (Fred) et Shirley Manson (Ginger)
Réalisation et photographies: Autumn De Wilde
Stylisme: Shirley Kurata
Musique: "Just You and Me" de Zee Avi
Infos +: les célébrités et la marque sur lunigal
> video

26 octobre 2015
L'album éponyme "Garbage" du groupe Garbage fête ses 20 ans. Sorti le 7 août 1995 en Europe (et le 15 août 1995 aux USA), l'album fait peau neuve en cette année 2015. Le groupe a en effet sorti une réédition de son premier album emblématique devenu culte car ayant inscrit le groupe dans la scène du rock alternatif des années 1990s.
-les 12 titres originaux ont été remasterisés :
1- Supervixen
2- Queer
3- Only Happy When It Rains
4- As Heaven Is Wide
5- Not My Idea
6- A Stroke Of Luck
7- Vow
8- Stupid Girl
9- Dog New Tricks
10- My Lover's Box
11- Fix Me Now
12- Milk
-et en bonus, les face-B des singles extraits de l'album sont éditées:

1- Subhuman
2- Girl Don't Come
3- Sleep
4- Driving Lesson
5- Trip My Wire
6- #1 Crush
7- Butterfly Collector
8- Alien Sex Fiend
9- Kick My Ass
---
L'album sort sous différentes versions:
> L'album "Garbage" 20th Anniversary en édition Deluxe - 2 albums remasterisés: les 12 titres originaux + 9 face-B
2 CDs - disponible le 02 octobre 2015.
Description:
Garbage 20th Anniversary Deluxe Edition (Remastered) (CD 1: Garbage original 12 tracks / CD2: 9 G-Sides)
Garbage's debut album remastered from the original analogue tapes.
Includes- "g-sides" Compilation.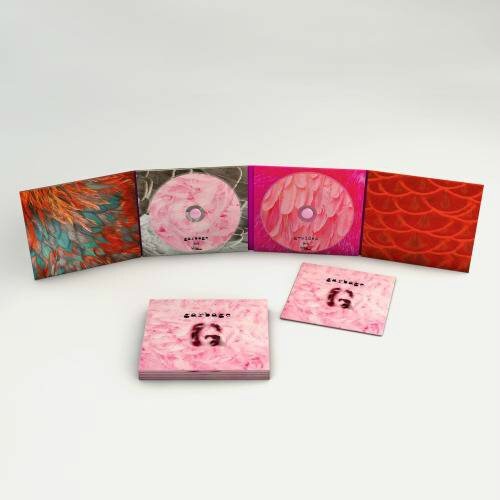 ---
> L'album "Garbage" 20th Anniversary en version standard - contient les 12 titres initiaux remasterisés
2 Vinyles - disponible le 30 octobre 2015.
Description:
Garbage 20th Anniversary Standard Edition (Remastered) (2LP: Garbage original 12 tracks)
Double LP: Garbage 20th Anniversary Standard Edition - Double LP
Garbage's debut album remastered from the original analogue tapes.
Includes download card.
---
> L'album "Garbage" 20th Anniversary en édition Super Deluxe - les 12 titres originaux + 9 face-B + 29 remixes + 12 versions alternatives - remasterisés
3 Vinyles en édition limitée + magazine + photo dédicacée - disponible en décembre 2015.
Description:
Garbage 20th Anniversary Deluxe (Remastered) (3LP: Garbage original 12 tracks / G-sides / fan zine / autographed band photo) (To be released ex-North America)
Limited edition 3LP box set
Garbage's debut album remastered from the original analogue tapes.
180gm Vinyl - Exclusive limited edition fan generate zine.
Plus - "g-sides" Compilation, autographed photo
Includes download card.
UNRELEASED TRACKS (Available on the Digital Super Deluxe Edition)
Vow (Joan of Ark Mix)
Vow (Stripped Down Mix)
Vow (Tuesday Night Club Mix)
Fix Me Now (Alternate Subbass Mix)
Subhuman (Supersize Mix)
#1 Crush (Early Demo Mix)
Strokes of Luck (Early Demo Mix)
My Lovers Box (Early Demo Mix)
Not My Idea (Early Demo Mix)
Only Happy When It Rains (Early Demo Mix)
Supervixen (Early Demo Mix)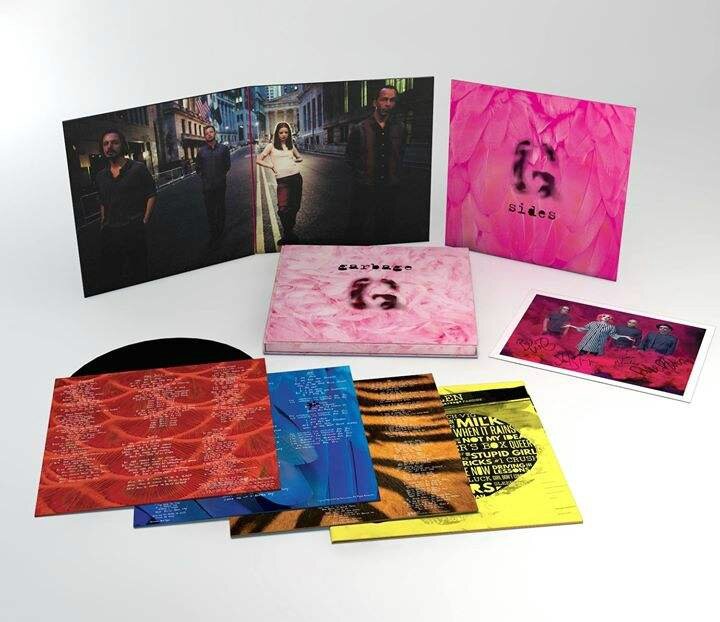 ---
Pour célébrer cet anniversaire, le groupe offre une tournée autour de ce premier album. Ils interprètent alors en live, en plu des titres de leur premier album, les titres des face-B jamais alors joués devant un public. La tournée se compose de 27 dates, s'échelonnant du 6 octobre au 14 novembre 2015, parcourant l'Amérique du Nord, l'Europe (une seule date au Zenith de Paris le 7 novembre) et la Russie.
Et Shirley s'est même teint les cheveux en rose, à l'image de la pochette à plumes roses de l'album:
03 octobre 2015
Shirley Manson est en interview dans le magazine américain SOMA, volume 29.5 de octobre 2015. Shirley pose sous l'objectif du photographe Joseph Cultice.
Shirley Manson
Playing with Garbage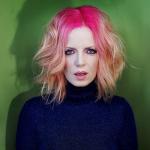 Before he launched Garbage, drummer Butch Vig was already the well-known producer of Nirvana's Nevermind and The Smashing Pumpkins' Gish. Smart Studios, the recording complex in Madison, Wisconsin he ran with guitarist Steve Marker, was ground zero for the alternative rock scene when Vig, Marker and multi-instrumentalist Duke Erickson decided to start a band that would turn the conventions of indie rock inside out and upside down. As their sound developed, they mashed up techno, grunge, trip hop, avant-garde guitar noise, pop music, show tunes and samples of random sounds, into something that sounded, at first, like garbage. Hence the band's self-deprecating name. When Marker saw a video of Scottish singer Shirley Manson and her band, Angelfish, they invited her to Wisconsin for an audition. Her understated presence was a perfect counterpoint to the band's loud, pop impulses and a groundbreaking band was born. Manson spoke to SOMA about the twentieth anniversary of the band's eponymous debut album and her thoughts on being an iconic stage presence.

Butch Vig, Duke Erickson and Steve Marker had been playing together for ten years when they asked you to join the band. Was that intimidating ?
It was, as it would be for any musician that was unproven and inexperienced. I'd been in a band for a decade or more, so as time wore on, my experience allowed me to hold my own with these three men I found myself working with, but it was unbelievably overwhelming. When they called me, I was stumbling from one opportunity to the next, hoping for the best, so who knows what would have happened without that phone call.

You'd never written a song before joining the band. Can you describe the songwriting process ?
I sang in the other bands I was in. When [the guys] asked me point blank, "Do you write?" I knew I had to wing it and said, "Yeah." They took me to Steve's house. They had everything set up in the basement and ran a cable upstairs to the living room of the house. It was just long enough to put my mike at the bottom of the stairs so they could shut the door to the basement. I had headphones to hear my vocals, but they had to come to the top of the stairs and shout down to me to give instructions. I had to make up lyrics to the songs on the spot. As an audition, it was a bit of a washout. I wished them well and went back to Scotland. Their manager called a few weeks later and asked how it had gone. I told him it was a disaster. He said the band felt the same way, but they felt a connection to me. They wanted to know if I'd come back and have another shot. I did, and the rest is history.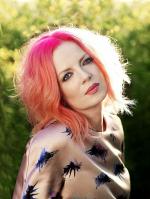 Combining so many styles was a risk when Garbage started. Did you have any hesitation when you heard the direction they were going in ?
When I first became involved, they hadn't started the sonic experimentation yet. The songs were straightforward chord progressions, with no hint of where the music was going to end up. It was exciting to see all the parts come together as they brought in the loops and samples. It's only in retrospect we realize that the first Garbage album was an archetype for where contemporary music was going.

Did you have a conscious sense of style when you started playing with Garbage ? How did your stage
persona develop ?
I'm always mystified as to why anyone thinks I'm a stylish person. If you look back at the old footage of the band and me, you'll see there was no style to be had at all. [Laughter.] Most musicians at the time wore plaid shirts and ripped jeans. I was in lipstick and makeup and singing about the abuse by the priests in the Catholic Church. The clothing I bought on the cheap at thrift stores. I couldn't afford to buy the clothes I wanted. Everybody flipped over the dress I wore in the "Stupid Girl" video, which I got at Rampage, a teen clothing store, for $21.99. I believe it was the full thrust of my personality that infiltrated the clothing, but that's all in retrospect. I think it was what I was saying and how I was carrying myself that defined my style, not what I was wearing.

Will you play the first album from beginning to end on this upcoming tour? Have you ever done it before ?
The short answer is, "Yes and no." When we start rehearsals, we'll have to learn songs like "Alien Sex Fiend" and "Stroke of Luck" that we never played live.

How is work on the new album going? Will you be playing any new songs on the tour ?
The tour and celebration is focused one-hundred-percent on the first record. It's a nod to our history. It's very selfish. There will be no new songs. The new album is written, produced and recorded. We have yet to finish the mixing, but the bulk of it is done. The intention is to release it early in 2016.

Text by J. Poet
Photograph by Joseph Cultice
> source web:
site du magazine somamagazine.com
12 mars 2015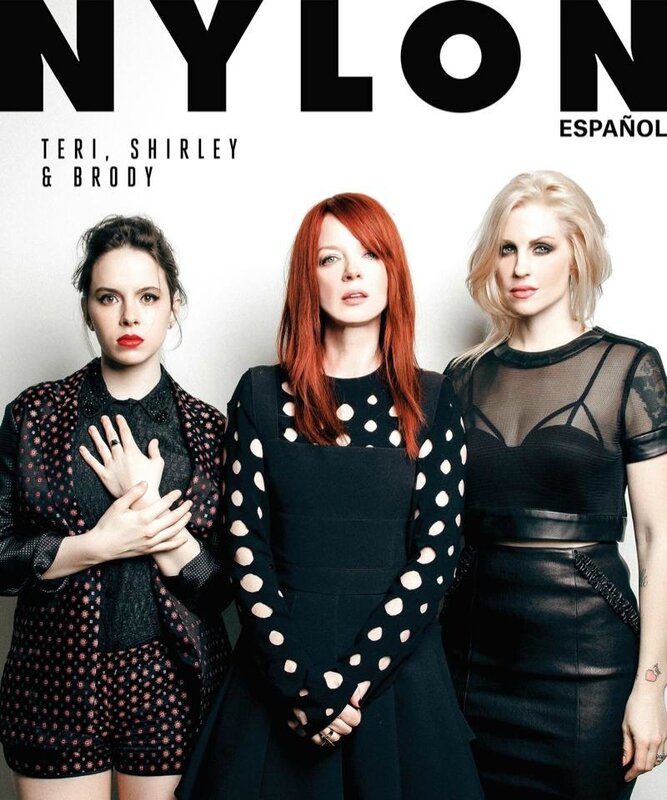 La version espagnole du magazine Nylon de mars 2015 propose 5 couvertures différentes (avec au total 7 personnalités féminines: les actrices Bella Thorne, Eiza Gonzalez, Ximena Sariñana et les musiciennes Bethany Cosentino, Shirley Manson de Garbage, Brody Dalle de The Distillers and Teri Suarez du groupe mexicain La Butcherettes). Ci-contre, la cover réunissant Teri Suarez, Shirley Manson et Brody Dalle.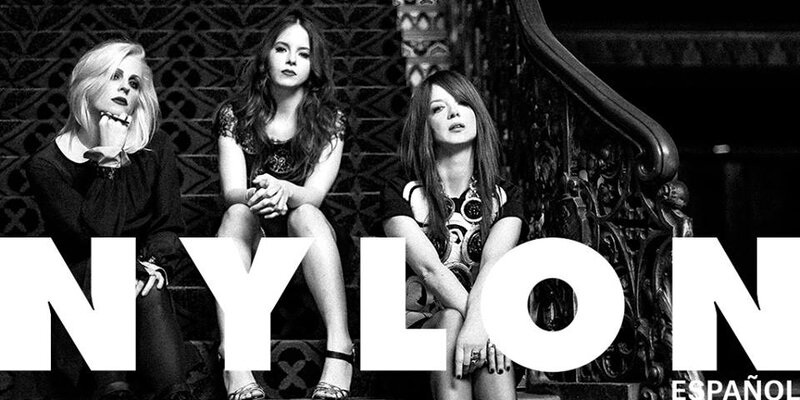 22 juillet 2013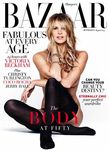 Shirley Manson est en interview dans la version australienne du magazine Harper's Bazaar , de août 2013. Shirley pose sous l'objectif du photographe Jez Smith.
Photographed by Jez Smith,
Styled by Thelma McQuillan,
Hair by Renya Xydis at The Artist Group,
Make-up by Jody Oliver at DLM,
Manicure by Gemma Barhan for Miss Frou Frou.

Grab a copy of the August issue of BAZAAR this month and you'll find, wedged between some pretty inspiring women like Elle Macpherson, Coco Rocha and Christy Turlington, an icon and role model of a different breed, the fantastically provocative, and smoking hot Garbage front woman, Shirley Manson. We could all take a leaf out of Manson's book – she's incredibly genuine, unapologetic, intelligent, and she plays the game her way, completely unafraid to take a hit.
In February, a few hours before Garbage's Sydney show, I sat down with her to talk about the band's hiatus, female representation in music and why she'd hate to be a new artist right now.
We've really loved having you back, and it's been too long between Australian tours. Can you tell me about the 8 year Garbage break?
"Funnily enough, we called it quits in Perth. Australia was the last place we wanted to play and we decided that we weren't enjoying ourselves and thought, being in such a privileged position, there must be something wrong if we don't feel good – it was a disservice not only to our profession and our fellow musicians but also to ourselves. We didn't really know what was wrong, we just felt depressed. [Laughs] We were a group in depression! We were fatigued from working non-stop for a decade, we hadn't spent time with our families and we just had no life."

How did it feel for you switching to a normal life?
"The first year, I cannot lie, was really scary. I realised I hadn't been anywhere by myself. I went to the supermarket the first month that I was home, by myself, and I started to shake because I realised for 15 years I always had somebody around. Always. I didn't even know what the price of a pint of milk was! I was just lost. And so when that happens, you're scared and fragile and I don't think that's a very good place to be as a human being. But I pushed through all of that and became acclimatised to regular life again and it was fantastic."

What was the motivation behind reuniting Garbage?
"It was a lot of things. I think we had taken so much time off, so many things had happened to us in our personal lives. I'd gotten married, I moved to LA, I lost my mother, which was a huge deal for me – she was so sick for two years, I didn't even want to make music, and then after she died, I didn't feel there was any point and I didn't have any music in me. Then, like all things, time heals you and you sort of start to think, 'My mum, of everybody I've ever known in my whole life, would be so devastated to think that I was no longer making music.' I think that was partly a spur. Then I started to want to be creative, I had ideas and I didn't have anywhere to put that creative energy. I tried writing music with other people – to me it was a fantastic venture – but my record label didn't think it was commercial enough so they didn't want to release it, which drove me insane! Eventually I just waited until my deal came to a close with them and then I was free. I was singing at the memorial for a friend of ours' little boy and it was a very emotional occasion and I bumped into [drummer] Butch there and he was crying and said, 'It was so amazing to hear you sing.' I was desperate to make music; he was too, so I think that was how we moved on and decided to call the boys."

You're an icon still, and you've endured whilst being completely true to yourself, what do you put that down to?
"I have endured, I realised, it's funny because when we finally finished our new record, my manager said to me, 'You realise that you're probably one of a handful of women who have ever done this? Who have, in their 40s put out a record that popular media are interested in.' I was kind of laughing like, I hadn't even given it a thought. As we started to slowly immerse ourselves in the music scene again I was suddenly wondering 'Yeah, where are all the female fronted bands that were playing in the 90s with us?' There are very few left. I feel very grateful for that, I put a lot of it down to our fan base who have been remarkably loyal in a time where peoples' attention spans are 2 seconds long; it's a miracle to me that anyone gave a shit about us bringing out another record. [laughs]
There are very few women, with my kind of experience, who are interested in making a more defiant stance, because I am defiant – I do know that about myself – and I am truculent, I'm non-compromising in a funny way and I think that's kind of an outmoded idea for women right now, it seems to me that women are very prevalent in the media but there is very little coming out intellectually or otherwise. I find that a wee bit weird."

They're being hushed.
"They're being hushed! It's kind of interesting, I do feel for women especially, that's what was so amazing about the 1990s – there was me and then a billion other girls who were speaking out and pushing back against the mainstream idea of how women should present themselves in the media."

What have your career and experiences taught you and how have they translated to what you're doing now?
"I think I've had the luxury of a lengthy career, and that informs every decision you make and it's taught me a lot about myself, about doing business, about engineering the life you want for yourself, and what I'm willing and not willing to tolerate – which sounds simple but is hard to learn who you are and what you want and what environment you thrive in. It's tough – when you have a lot of pressure on you and your career, it's very difficult to make smart decisions. What I have now realised is that I made a lot of really smart decisions, as did my band."

And that's something so many young artists struggle with now.
"Oh I would hate to be an artist right now; I think it's very difficult- there's no patience for building an artist. I look at what's happening with someone like Azealia Banks, who I really admire and I think is an incredible talent, 212 was my favourite song bar none of last year, but there's so much pressure on her now. I'm sure she feels it, maybe she doesn't, maybe she is free of that concern, but I think that's a pretty tough spot to be in, where you put out your first single and before you know it, everybody in the world literally knows who you are.
I think that can be a very stifling place for a young artists to try and thrive. I see the pressure on people now to be successful and huge and big right out of the starting gate, it's insane and unnecessary.
They say that you don't know how to do anything very well until you've done at least 10,000 hours -nobody gets that chance anymore. Artists are expected to have hit after hit, after hit, after hit. And if you don't have a hit, the second you fail, you're out the door because there are a billion people waiting to fill your shoes. The record companies have no patience with a failing artist so they just throw them out with the garbage and they get a new blood. I think what that leads to is 10-a-penny artists who all sound the same and nobody is taking chances, nobody is taking creative risks."

There are a few that are doing it their own way, not someone else's, which is something I know you've experienced… Who is getting your attention?
"Well they just want little auto-matrons, believe me, they just want you to sound the same and do the same as everybody else. 'That's worked for The Pussycat Dolls! That'll work for Shirley Ann Manson!' Uh no actually that formula will not work. But they don't understand that…anyway, that's a whole other conversation. [laughs] Who do I love? I like the girls who are an argument with the mainstream – I love Karen O from the Yeah Yeah Yeahs, I love Savages out of the UK – so good and exciting and weird and sort of strident and not playing the pretty girl card or the people pleaser card. I would like to see a little bit more of that."

Savages are fantastic. You wrote a track for Sky Ferreira too, didn't you?
"I did! I was doing a shoot and I met a friend of Sky's and he said 'she is really struggling and a little lost and would you reach out to her? Because I think you'd really like her.' And funnily enough, Greg Kurstin, a friend of mine and a writer in LA, had also been working with Sky right at that time and he'd said, 'I think you'd love this kid! She's kind of feisty and she's got good music taste and she doesn't know really how to deal with all the pressures of a record label's expectations.' So I emailed her and we hit it off. You can't sit in a room with Sky and not think there's something fucking incredible about her. I know she's beautiful, and people write her off, but it's nothing to do with beauty at all. I've seen a billion beautiful girls in my lifetime and I haven't wanted to help them all out. I just see Sky and I think she's got a spirit in her and she wants to be an artist and she's curious and she's willing to take risks and I love that in her."

Do you have a natural mentor instinct?
"I do, because of what people did for me, I understand what a mentorship means. Tina Weymouth and Debbie Harry and Chrissie Hynde really played a big role in moments when I felt like I couldn't do something, they told me I could. In general, I feel sympathy for any young artist, but I am really drawn to women because I identify with what they are up against- because you're up against a lot. It's not easy – I know that anyone who succeeds in the music industry, particularly if they are female, every single one of them has bled out. Every. Single. One. Even the ones who look like they are sort of puppets – even they have bled out. Even just to be in the game, let alone be great- I identify with that and I have a lot to teach."

What advice would you give young female artists?
"Keep going and listen. If you really want to make this your life, you have to be willing to get smacked in the mouth and lie on the ground all bloodied and have everyone laugh at you and not believe in you and tell you you're kind of worthless, and be prepared to stand back up and be defiant enough to say, 'No I think you're wrong. I think you are all are wrong!' And that's the only thing you have to do, keep trying. Now that doesn't guarantee you success, but let me assure you, you won't have a career if you're not willing to do that.
Women in particular, I think, get defeated really easily. I've seen it with some of my friends, I've seen it sometimes with my family – they get a slap in the face and they go, "Well, that's it! I tried to do this and it didn't work out." Okay, well then, you're going to have to try again, aren't you? I think people get scared to take that risk because, "Oh it hurts so bad, the first time I failed, I don't think I can stand it again." Well my news to you is yeah, you can stand it. All it is, is just a little loss of your dignity or your self-respect or whatever, you can get over it, if you really want it that bad."

You've always talked about your own inner demons and self-doubt, is that something you still battle or have you overcome it now?
"No, I still have it. I have a woman in my life, my trainer, and she's been incredibly inspiring to me. She said something once, a few years ago, that really resonated with me: 'All this self-doubt that you have Shirley, everybody has really, deep down, if they want to tune into it. Your problem is, you're listening to the negative. They're just your feelings, they're stupid and they have no base in reality, they are just things you think you feel. Switch that off and just start tuning in.' When I put it into practice, the healthier I feel. Yeah, I get down, but then I think, 'I've got to stop this,' do something that takes my mind off it and then I forget I'm depressed or full of self-doubt."

You wouldn't know because you're so fierce.
"I'm too superficial!" [Laughs]

Well, speaking of, can you tell me about your style and how it's kind of evolved over the years?
"[Laughs] I've always been surprised that I've had any attention from the fashion world whatsoever! I do know that I have a big personality and that's what designers like. They're like, 'I'm going to dress her because she's not going to walk into a room and be quiet, she's has something to say.' I don't let the clothes wear me – I tend to wear the clothes… One day I'll be like, "Okay today I'm just in the mood to look really demure," and I'll wear a really demure dress with glasses and I'll look like a librarian. And then the next day I'm like, "Fuck this! I'm going to wear my thigh-length leather boots!" and do the complete opposite. So I don't have any real, real aesthetic but I know what I like and I guess I do want to look different to everyone else, particularly when I step on stage."

I like that when we were prepping our shoot you had an opinion about what you would and would not wear – particularly no fur and no "rock chick" styling. So you still get pigeon holed in to that? Isn't that boring?
"Yeah I do. It is boring, it's so dull! It's so uninspiring, because I always want people to dress me up like an actress from a 1960s Italian movie or like Catherine Deneuve in Belle Du Jour, I always want that! I don't want to wear what I'd normally wear to the studio every day. The [BAZAAR] shoot was fantastic, so much fun. I mean, they aren't clothes that I would probably ever wear, but Catherine Deneuve would, so I loved it! It's like playing with dolls when you're little and I love that. I guess I see fashion as creating; it's about escapism and fantasy. And I love creating and I love telling a story."

> source web:
site du magazine harpersbazaar.com.au
22 juillet 2012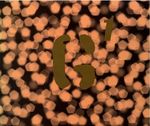 On poursuit la (re)découverte du premier album éponyme du groupe Garbage, avec le deuxième single intitulé Queer sorti le 30 octobre 1995 en Europe.
La chanson fut initialement enregistrée sous forme de démo incomplète en janvier 1994, dans le studio d'enregistrement des 'gars' de Garbage: Butch Vig, Duke Erikson et Steve Marker, dans leur propre studio à Madison (dans le Wisconsin). L'inspiration de Butch Vig pour ce titre lui vient d'un roman qu'il avait lu à propos "d'une femme qui avait été engagée pour faire du fils d'un gars un 'homme'. Puis il réalisa que la femme qui venait le voir dans sa chambre se tapait aussi le père".
Lorsque les gars font venir Shirley de son Ecosse natale, la chanteuse enregistre une démo sur le titre Queer. Shirley va participer à la réécriture du titre en demandant d'y ajouter des arrangements trip-hop, et elle y apporte des paroles ambigües, de telles sortes que les auditeurs peuvent penser ce qu'ils veulent. Shirley va chanter cette fois-ci en adoptant un style plus minimaliste, plus discret; et c'est à ce moment que le groupe a su quelle direction prendre pour leur travail.
Le groupe incorpora un sample de batterie de la chanson "Man of Straw" du groupe néo-zélandais Single Gun Theory, en y superposant les boucles de batterie du percussioniste de Madison, Clyde Stubblefield (qui travailla notamment avec James Brown), qui joua aussi sur le titre "Not My Idea" de l'album de Garbage. La guitare basse a été complétée par la participation du bassiste de Milwaukee Mike Kashou. Le groupe voulait aussi ajouter un sample de clarinette d'un enregistrement de Frank Sinatra, mais abandonna l'idée car les droits d'auteurs s'avéraient bien trop onéreux. Finalement, ils utilisent un sample de clarinette de Les Thimming.
Pour les paroles, Shirley expliquera que "Ce n'est pas, comme vous pouvez le penser, de faire avec une personne gay, mais de la tolérance. Ma mamie a une expression 'Or's queer, except thee and me, and sometimes even thee's queer', ce qui veut dire que tu penses être normal et que le reste du monde est bizarre, mais nous sommes tous à blâmer." Le groupe n'a pas écrit la chanson pour faire particulièrement appel à la communauté gay, cependant Duke Erikson a déclaré "En tant que musiciens, nous sommes totalement ouverts. (...) La chanson n'est pas du tout sur le sexe, c'est sur la perte de l'innocence."
Paroles
Hey boy, take a look at me
Let me dirty up your mind
I'll strip away your hard veneer
And see what I can find

The queerest of the queer
The strangest of the strange
The coldest of the cool
The lamest of the lame
The numbest of the dumb
I hate to see you here
You choke behind a smile
A fake behind the fear
The queerest of the queer

This is what he pays me for
I'll show you how it's done
You learn to love the pain you feel
Like father like son

The queerest of the queer
Hide inside your head
The blindest of the blind
The deadest of the dead
You're hungry 'cause you starve
While holding back the tears
Choking on your smile
A fake behind the fear
The queerest of the queer

I know what's good for you, you can touch me if you want
I know you're dying to, you can touch me if you want
I know what's good for you, you can touch me if you want
But you can't stop

The queerest of the queer
The strangest of the strange
The coldest of the cool
The lamest of the lame
The numbest of the dumb
I hate to see you here
You choke behind a smile
A fake behind the fear
The queerest of the queer
The strangest of the strange
The coldest of the cool
You're nothing special here
A fake behind the fear
The queerest of the queer

I know what's good for you I know you're dying to
I know what's good for you
I bet you're dying to
You can touch me if you want
You can touch me if you want
You can touch me
You can touch me
But you can't stop
---
Le single: Comme pour tous ses singles, Queer sort en format collector, dans une pochette en plexiglas, sorti à seulement 5000 copies (autant dire qu'il est devenu très recherché !)
Le single Queer comporte différentes face-b selon l'édition ou le pays dans lequel il est sorti:
- Trip my wire
- Butterfly Collector
- Girl don't come
- Sleep
---
Le clip vidéo de Queer a été réalisé par Stéphane Sednaoui en juillet 1995 à Los Angeles. Le concept de la vidéo a été developpé par la propre expérience du réalisateur qui a été "mis en lambeau" par une belle femme. Le groupe a adoré le storyboard du clip, car cela collait bien à l'ambiguité de la chanson. C'est Shirley qui avait choisi Sednaoui comme réalisateur, après avoir vu le clip "Big Time Sensuality" qu'il a réalisé pour Bjork. Sednaoui filme en caméra subjective (de telle sorte que le spectateur prend part à l'action, comme s'il était le personnage qui filme).
Le clip fut diffusé pour la première fois aux Etats-Unis en août 1995. Le groupe fut nommé dans la catégorie "Breakthrough Video" aux MTV Video Music Awards en 1996, mais c'est Smashing Pumpkins qui remporta le prix pour le clip (excellent) de "Tonight, Tonight". Shirley déclarera en 2005: "Je suis très fière de "Queer", je pense qu'il s'agit de l'une de nos meilleurs vidéos". La robe argentée que porte Shirley dans la vidéo est aujourd'hui exposée au Hard Rock Hotel & Casino de Las Vegas.
---
> Bonus Vidéo
Shirley et Stephane Sednaoui parlent du clip

Images du Making-Of + le clip

---
La promo: Le groupe a interprété le titre en live dans diverses émissions TV à travers le monde:
> MTV Most Wanted - MTV, London / Europe - 22 Novembre 1995


> NULLE PART AILLEURS - Canal + / France - 02 avril 1996


> TOP OF THE POPS - London - 1er décembre 1995

21 juillet 2012

Garbage, Le retour
publié le mardi 17 juillet 2012
en ligne sur laprovence.com
Après un long silence, le groupe se reforme autour de la rousse et magnétique Shirley Manson. Il joue ce soir à Arles.

Perdus de vue en 2005, Shirley Manson, le batteur et producteur Butch Vig, Duke Erikson et Steve Marker, écument, cet été, les festivals avec un nouvel album Not Your Kind of People, qui ravive leur formule pop-rock futuriste. Entretien.

Portez-vous toujours votre anorak orange ?
Shirley Manson : (Elle rit) Oui , je le porte de temps en temps !

Vous êtes de retour sur scène dans de grands festivals européens. Comment vous sentez- vous ?
S.M. : Faire une carrière dans l'industrie musicale est un privilège pour une femme. Je suis telle que j'ai toujours été. Je ne fais pas semblant d'être jeune. Et je n'ai pas peur de vieillir. Je suis fière d'être programmée dans de grands festivals.

Garbage a été l'un des premiers groupes à mélanger les grosses guitares à de l'électronique. Pensez-vous avoir influencé d'autres groupes?
S.M. : Certainement. Je vois l'influence de ma génération sur les jeunes dans la façon d'enregistrer en studio ou de jouer en live. Et pas uniquement dans le rock.

Vous avez tenté une carrière en solo. Que cherchiez-vous ?
S.M. : Je ne cherchais pas à faire une carrière en solo. Je cherchais à être moi-même. Je voulais "déshabiller" Garbage, faire un disque calme, sans me demander si cela plairait aux radios. Naïvement, j'ai cru que ma maison de disques allait me soutenir. On m'a fait comprendre que c'était trop abscons.

Comment vous êtes-vous retrouvé ?
S.M. : Notre agent nous a organisé des retrouvailles. Très vite, nous avons trouvé des points communs, avons lancé les mêmes vannes. Il a suffi d'une bonne bouteille de vin pour détendre la situation !

Vous vivez à Los Angeles. Edimbourg vous manque-t-il ?
S.M. : Bien sûr. La culture, la famille me manquent. Malheureusement, il n'y a pas d'industrie musicale en Ecosse. Si vous voulez faire carrière, il faut bouger. Sauf si vous aimez le folk.

Vous êtes à Arles ce soir. Aimez-vous des artistes français ?
S.M. : Oui, mon mari vient de produire le disque de Superbus. J'adore Air. Il y a beaucoup de Français que nous aimons !

Qu'attendez-vous du contact avec le public ?
S.M. : Je n'ai pas d'attente. Je vais profiter de chaque instant. Sept ans, c'est beaucoup dans le monde de la musique. Notre public a grandi. On a été surpris de recevoir un tel accueil. C'est incroyable !
Ce soir 21h30 au théâtre antique d'Arles en ouverture des Escales du Cargo
Propos recueillis par Marie-Eve BARBIER et Frédéric SANIERE